Mother & Daughter trip to Barcelona
Last week I went with my mother to Barcelona. It was so exciting as it was a surprise for my mom and she has never been there before. For me, it was a second visit after almost 10 years. Previously I really enjoyed Barcelona, but  much preferred Madrid as my favourite city and I've already been there a couple of times. However, I am so glad I got to go to Barcelona again as it is such an amazing city and this time I got to explore other sides of it.
What I really want to focus on here is – food scene. And especially – how vegetarian friendly Barcelona is.
Spanish Cuisine
I will be honest here – Spanish cuisine was never my favourite. Two main reasons – traditional tapas supposed to be shared and I do not share my food ( OK unless I really really like you). Secondly and more importantly, the selection of vegetarian tapas is very limited. Usually it is patatas bravas – which are baked potatoes in tomato puree and some vegetarian tortilla. Both delicious – don't get me wrong. But it could be simply not enough for a proper meal.
As it turns out, there is so much more than just tapas and that vegetarian tapas actually can be fun, delicious and plenty. Whenever I travel I love to eat local food and taste all the unique specialities ( within plant-based reach).  So let me share with you my vegetarian experience in Barcelona.
My Favourite Places for Vegetarian
El National
My number one place a place called El National. The venue was breathtaking – spacious and very stylish. Divided into sections you could choose your type of food. There's a section with more traditional fine dining, section specialising with fish and sea food. I really want my mom to try the real tapas so went for that section. Side note: the queue was long. It was late already but we didn't give up. When our turn came we were explained the rules of the house… This was not your usual style at all. Dining there came with instructions. Instead of waiting for the waiter to come and ask for your choice, the dishes were on the trays carried around the whole restaurant. Hot tapas were circling around and were called out by the serving waiter. You had to raise your hand to signal that you would like that particular dish. We had a great laugh when trying to decide should we wait for what we wanted or just catch what was coming your way. I'd recommend to be open minded and just go with the flow. So much fun! The atmosphere was amazing and the food 10 out of 10. Definitely worth the wait!
Flax & Kale
Barcelona is not only tapas though. Another amazing place were we ate was beautiful Flax & Kale restaurant.  It was recommended to me by a friend and I will thank her forever for introducing me to it. It's a chain with three venues in Barcelona with slightly different profiles. We went to Flax & Kale Tellers. According to their own website: " Flax & Kale Tallers was the first Healthy Flexitarian Restaurant in Barcelona. All the dishes there are designed not only to maximize the organoleptic pleasure, but also considering their nutritional value". Personally, if you ask me what is my spirit restaurant – it would be this one. The venue is simply stunning, the menu is on the healthy side – plenty of raw and green options. A must for a vegetarian/vegan or a foodie. As it comes with good places – there was a queue to get it. The food was delicious and so was the wine. Very memorable and enjoyable meal after a long day of sight seeing. 10 out of 10.
Brunch & Cake
Third place we were recommended was Brunch & Cake. Venue was small and cosy. Nice decor and funny motto – In grandmothers we trust! So true though! Again, we were welcomed by a queue, luckily not very long.  Very good choice of vegetarian options. Regrettably, my dish was not as nice my mom's. My mother's dish was full of flavour and satisfying. I found mine a bit on a bland side, but still ate all of it – of course. I could have just been unlucky that day as everybody else food looked so scrumptious, but for a place with such a hype – I believe the taste should have been at least 9 out of 10. I would give it 7 which is generous as I love the location and 9 for the cute decor.
Vegetalia
A fourth place where we had our dinner was a strictly vegetarian restaurant in the Gothic quarter – Vegetalia, near the Barceloneta metro station. Same as with F&K, there are three Vegetalias around Barcelona. We just found it randomly while strolling with an intention of finding place to sit down for an evening meal. The menu was very good with a selection of local and italian dishes. I had a fabulous paella there and my mother ordered a lasagne. Both were delicious. Paella is one of the traditional Spanish dishes that I truly love and already got to replicate it at home. It's a filling rice dish with a lot of flavour and crunchy vegetables. The restaurant had a pleasant and relaxing vibe, but more casual than others. I'd give it 8 for decor and 8 plus for food. Still amazing to find a vegetarian place in the busy touristic area, so plus for that.
The sunny weather and balmy evenings definitely added to the overall experience but a lot has to be said for the richness of the Spanish cuisine from Catalonia region. Vegetarians – you'll be fine! Go and and enjoy many delicious moments out there!
I'm already planning my next visit to Barcelona…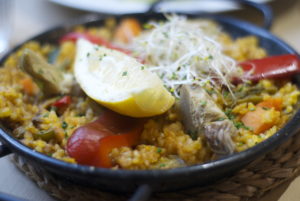 Delicious paella in Vegetalia.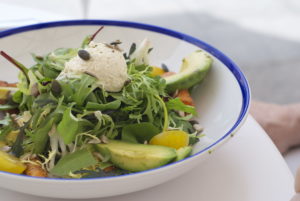 Scrumptious sallad in Flax & Kale.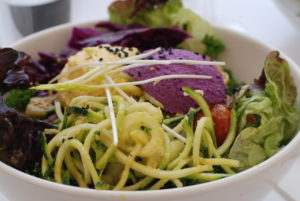 Flax & Kale.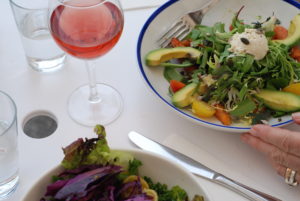 Flax & Kale.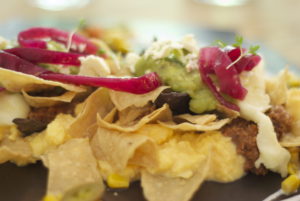 Brunch & Cake.