Ready for a delicious vegan soup recipe? Autumn to me is a season of warm, hearty soups. Do you love delicious season of pumpkins, sweet potatoes, red lentils and tomatoes – all in the lovely shade of rust and orange? I hope so. Those products are great to keep at home. Firstly, they make many delicious meals. Secondly, we can keep them in a cupboard for a long time. However in autumn I truly love cooking soups. Easy to make, kids love them and they 'cook themselves'. Busy mama's favourite.
Therefore here is absolutely delicious vegan sweet potato and lentil soup – apart from the amazing taste it has easy ingredients – so important in the family cooking I think. I cooked it day after being back from holidays – straight to my day work – busy as you can imagine! Luckily I had all ingredients in the press bar one – garlic! We run out of our all time staple…
What you need:
– 1 sweet potato
– 1 carrot
– 1 glass of red lentils
– 1 can of tin tomatoes
– 1 onion
– 1 clove of garlic
– 1 l of veg bouillon – spices: 1 tsp cumin, ground ginger, cinnamon and sweet paprika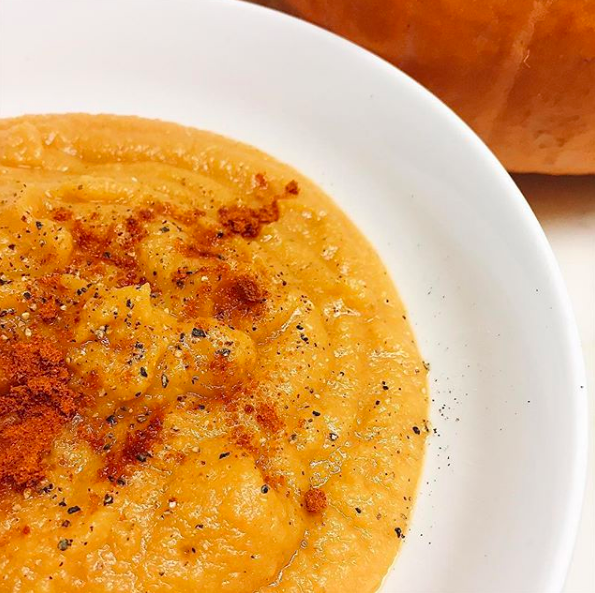 Method:
Chop the onion and diced the potato. Wash, peal and slice the carrot. Sauté the onion with sweet potato and carrots for couple of minutes. Add spices and stir well. Add tomatoes and pour the bouillon. Bring to boil and simmer for 15 minutes. Blend it after it cools down a bit. I like to sprinkle it with fresh black pepper and sweet paprika. Also, if you have it – garnish it with fresh parsley or coriander. Enjoy!
Do you eat many soups? What's your favourite?
My kids are happy to eat them but sometimes they enjoy the bread that we serve with them more. As long as some veggies are consumed, I'm happy too.