Vegetarian recipe – Stuffed aubergines with millet groats and mozzarella
– 45 mins
– perfect weekend dish
Very filling and tasty Sunday dinner. Just what we needed. Kids loved it!
And there's more left for tomorrow (win).
Aubergines are so under appreciated, in my opinion. They are so delicious and so versatile. They easily take over any flavour we put on them. And the creamy flesh is just divine. This version is much more filling and full of flavour. It takes a while to make but so worth it.

What you need:
2 aubergines
2 carrots – 1 onion
1 garlic clove
1/2 glass of millet groats uncooked
1 pepper
1 tomatoe
100 g of shredded mozzarella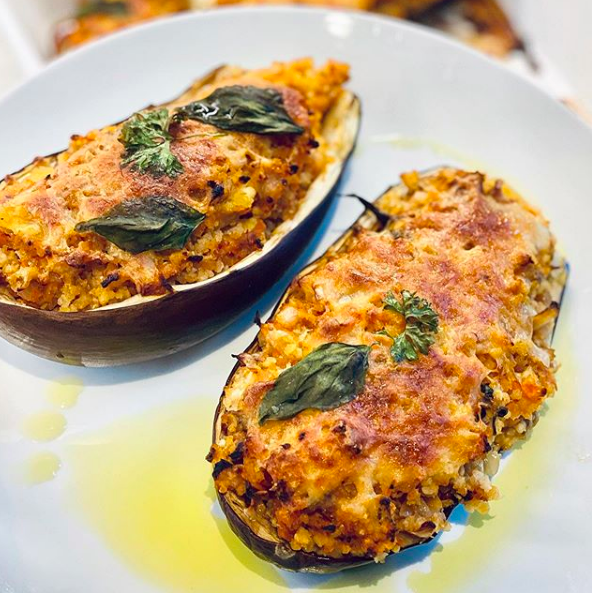 Method:
Firstly, cook the miller groats as per instruction. In the meantime chop garlic and onion and sauté on a pan in olive oil. Dice the pepper, grate the carrots and add them to the pan. Add tomato and the insides of the aubergines, which are initially cut into halves. Cover with lead and let simmer on low heat for 15min until all the veggies soften. Then add millet groats and mix. Arrange the aubergines in a oven proof dish and stuff them with the veggie mix. Sprinkle with mozzarella. Bake at 180' C degrees for 25mins. Enjoy!