Sometimes you just want something scrumptious, greasy and delicious. Something that will make you feel good in that instant moment. Satisfying. Comforting.
But can vegan food be comforting? I've decided to explore this question and started with exploring my fridge content in hope to find an answer to this question.
Quickly I was set on cauliflower. Personally, I love this vegetable and always did. But my go to version of it was just boiled or steamed and sprinkled with olive oil and some salt & pepper. Not super adventurous. This has changed. Meet the ultimate vegan comfort food – cauliflower wings with garlic mayo sauce!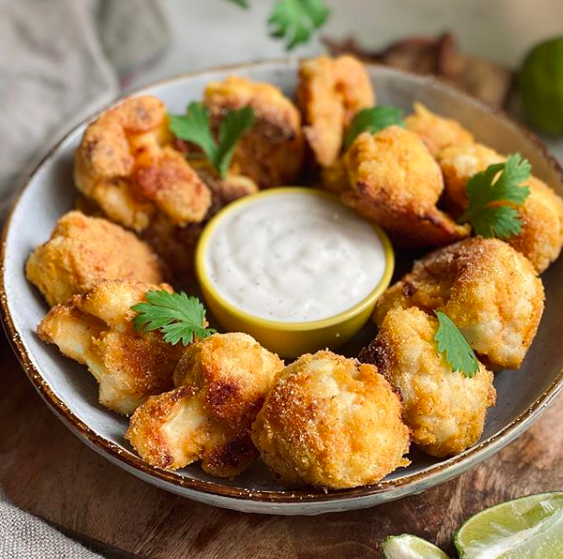 Guess who loved this version of cauliflower the most? While the kids inhaled it, my husband went crazy for them and wanted more ! Looks like I will have to make them again.
Lockdown made me make use of the ingredients that I already have (that chickpea flour was there for ages). I've already test amazing qualities of the magic flower, so why not take it further this time and treat the cauli florets.. Below, see my version of this delicious starter.|Vegan|
Ingredients:
1 small cauliflower, leaves removed and cut into florets
60g chickpea flour
100ml oat milk
big pinch of salt
pinch of black pepper
half tsp of smoked paprika
fine semolina ( half glass)
olive oil for frying ~5tbsp

Firstly wash and cut cauliflower. Put it into boiling water for 5mins( blanch it) and rinse. In the meantime make the batter by mixing all ingredients except olive. Heat up the olive oil in a frying pan. The batter should be smooth and runny, mix it well. Dip the cauliflower chunk into the batter and next toss it in semolina. Put on the hot frying pan. Repeat it with all the pieces and fry for couple of minutes (5-7m) on medium heat. They should be golden and crispy. Remove on a plate with a sheet of kitchen towel to soak up excess oil. Serve with your favourite dip. I made a quick garlic mayo with yoghurt one. (Not Vegan) 3 tbsp of mayo and 1 tbsp of yoghurt. 1 garlic clove crushed, juice of half lime, salt &pepper. Next step will be trying to make vegan mayo… but that's a separate story. Enjoy!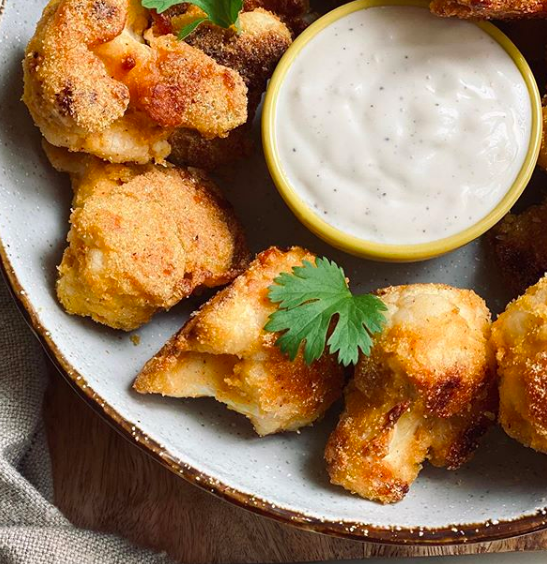 Do you like to experiment in your kitchen? Or do you prefer old and tested recipes? Tell me in the comments below.