It's a rainy July day here in Ireland. We all in a need of some pick-me-up. What's better then a rainy day favourite – a vibrant, creamy (in texture) soup? Hmm, maybe a vegan curry… But we just wanted something lighter, sunnier and brighter.

Easy to cook – definitely my type and suitable for the whole family (salt added at the end) so my 10 month baby old can have some too. Guess what, he loved it! He is very vocal about his favourites. He literally jumps for joy in his hight chair, it's hilarious to watch.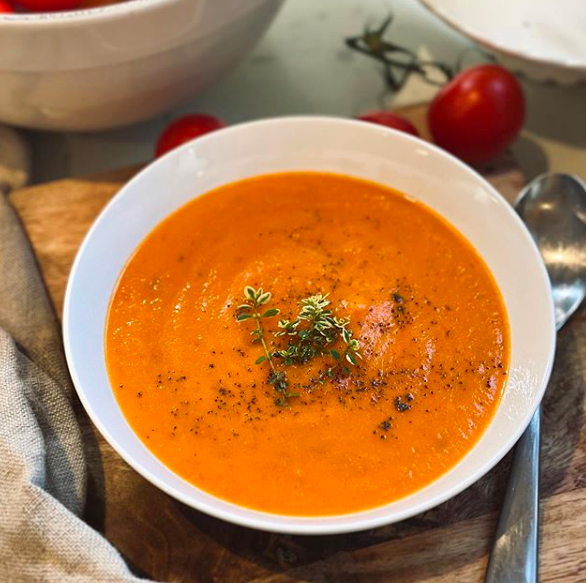 Roasted tomato & red pepper soup |Vegan|
Kids absolutely loved it! All gone! Baby Henry had some bread dipped in the soup too. It's so delicious!

Ingredients:
– 6 medium size tomatoes
– 2 red bell peppers
– 2 cloves of garlic
– 3 carrots
– 2 tbsp fresh thyme
– 700ml of vegetable bouillon
– olive oil
– salt and pepper
Method:
Heat the oven to 200'C. Wash and peel the carrots. Cut them in halves. Remove seeds from peppers, cut them in halves. Arrange tomatoes and the rest of ingredients on a baking tray. Next, sprinkle with olive oil. If you have a cooking brush, use it to spread to olive evenly. Put the herbs around. Roast for 40mins until all soft. Once done move to a pot, pour the bouillon. Bring to boil and simmer for 10 mins. Blend with a hand blender and season to taste. Garnish with fresh thyme. Delicious with a slice of bread or on its own. Enjoy!
This soup made me so happy. It's super tasty and full of flavour. Because of the slowly roasted veggies it has this natural sweetness. My girls really enjoyed it. I know it when they are really quiet and focus on eating. It brings me lots of joy knowing that they get to discover delicious flavours. And the fact that those flavours come from a very nutritious and healthy meal… well, that's what it's all about!

How did you spend your Saturday?
We stayed home most day, only managed to go for 20min walk in our local park, just before the dinner. Fingers crossed the weather will improve soon.