I always compose my meals based on their colours combination. That's right! I don't really analyse the nutritious value of it or its calories ( naaah!). Once you know your basics, which is pretty much: all vegetables and fruits are good for you – you are good to go to combine them yourself. My recommendation – the more colours the better!
Same as with my outfits or interiors I like to think about colour pallets and colour set when picking my ingredients. Sometimes I like to go for more calm combo while other times I like my bold set of complementary colours. If you ever done any painting classes ( like me) the knowledge of how the colours interact together will help here. But that's more advanced level I guess. For example here I knew I had lovely bright orange butternut squash with a delicate, slightly sweet flavour. I added white feta, creamy quinoa and fabulous ruby pomegranate. I could just look at it and look for ever, it is such a beautiful combination. And bonus – it's super tasty. Hidden bonus – it's also super good for you!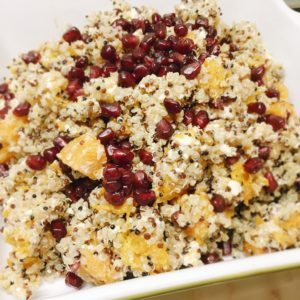 Butternut Squash & Quinoa Salad
Here you go -delicious and wholesome vegetarian salad or a meal on it's own! Full of flavours, textures and colours – exactly as I like!
What you need:
– 1 butternut squash
– 150g of quinoa ( I used multicoloured)
– 150g of feta
– one cup of pomegranate seeds
– olive oil, salt&pepper
What you need to do:
Peel and dice the butternut squash, cover with a bit of olive oil, season and bake for 20m at 180 degrees. In the meantime – prepare your quinoa – I cook it as per package instructions for 15 minutes. You can use multicoloured for special effect. Any quinoa will look and taste good though. Once the squash is done, put it in the mixing bowl, add diced feta, pomegranate and cooked quinoa. Mix well but gentle, so the feta doesn't get to squashed. Sprinkle with pepper and sunflower seeds of you like. Enjoy! 🙂