Here is my delicious result of experimenting in the kitchen – amazing vegan chocolate cookies (gluten and refined sugar free) 😍
I was really craving chocolate two days ago and we had none at home. We rarely have some store bought sweets. This was the time when I really really needed to have my homemade dessert. So… I started going through all my cupboards. Found remaining of coconut flour and items I always have like raw cocoa, coconut oil, maple syrup, dates and raisins ( my staple). Normally I'm not worried about gluten. I actually love gluten;) However this time I just wanted to get rid of the GF flour I bought some time ago for one particular recipe. Finally the time has come to use it – otherwise I am happy with normal flour. Nonetheless – I'll be making these again for sure and will go and buy that coconut flour! Purely for its taste qualities – I loved the texture it gave me. It made the cookies extra crunchy and somehow delicate. You just need to try it at least once for yourself basically.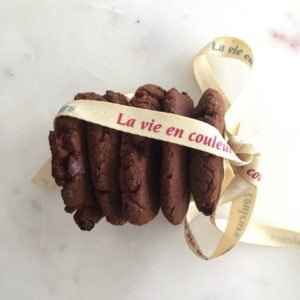 Chocolate Cookies Recipe
What you need:
200g of coconut flour
3 tbs of coconut oil
8 big tbs of raw cocoa
5 tbs of maple syrup
100g of raisins
A handful of dates
Pinch of salt
What you need to do:
Melt coconut oil in a pan and add maple syrup. Pour it to the bowl with the flour and mix well. In the meantime soak your raisins and dates for 15mins. Put everything in the food processor and blend until smooth. You can add it's if you like. Form small balls, flatten them and arrange on a baking paper and baking tray. Bake at 170 degrees for 15-20 mins ( turning half way) and enjoy!