Everyone has their fail-safe recipe for a good dish or dessert. Today I'd like to share mine. This is something I always go back to, when I have bananas that need to be eaten soon. It's a delicious, easy and super good for you dessert, which only takes 15 minutes to make. I usually go for it in those in-between months – so during spring or late autumn. When the seasonal fresh fruits are mostly gone or not yet available. March is ideal to make it as long as you can get pears. Do not worry – they don't need to be too ripe as they will all end up being boiled in one pot together with bananas.
Another important thing to point out – it's a French desert. I don't know about you – but I feel that almost everything French is better or at least must be good. Here I'm right again, trust me. I found this recipe in my favourite parenting book "French Kids Don't Throw out Food". It's a typical French dessert made for little children for their gouter. Lucky French kids I say! Once I tried it – I was in love. And so were my little ones! Last thing to note – there's no sugar in it. Just natural sweetness of the ripe bananas. Isn't it genial?
It's just yummy but also so good for you. But to be clear – my overall food philosophy – I do not make it because it's healthy/ sugar free etc but because it's simply super delicious. Ok – and easy! 😉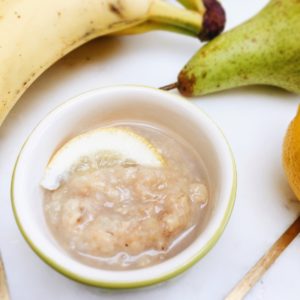 Recipe below:
Boil 2 – bananas and 2 pealed pears in lemon juice( from a half) and 1/4 of glass water for 15 minutes. Put aside and refrigerate before serving. That's it! Easy peasy! Enjoy!